Greetings from A FUCKING FRIGID River of Boiling Water where it is COLD and there is snow and ice and it is very pretty but the temperature is only in the single digits and that is just not a proper place for a human to live. DID I MENTION THE COLD? It's also beer week, so I guess there's that.
On the Internets:
David Bowie died. Alan Rickman died. The world was really sad but listened to a lot of REALLY good music and watched a lot of REALLY good movies because of it. So in that way, the world got a little better because we all got reminded that even though there are terrible things going on in the world, there's still some great things that are coming out of it. Speaking of terrible things (HEY LOOK A SEGUE), a town in New York has decided that their town seal TOTALLY ISN'T RACIST….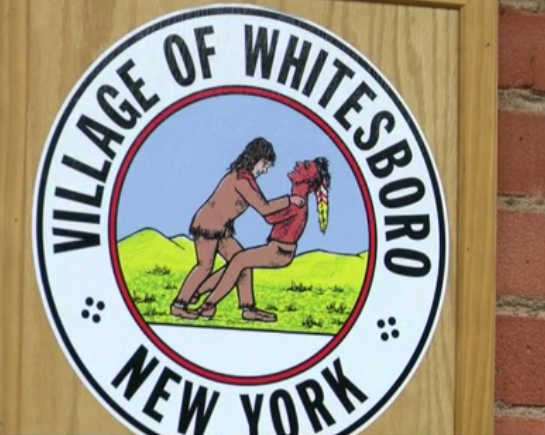 Other things died this week too, just no one gives a shit when it's internet explorer. No one wants to buy the Silence of The Lambs house. Someone made a computer out of dominoes. Alchemy it turns out might not 100% pure bullshit. Sugar gliders are the new cats. A guy in Ohio didn't like the mugshot cops were using to try to find him, so he sent them a selfie. The WHO said West Africa was free from Ebola. Ebola replied, "O RLLY?"
My friend Iris has a new project where she goes and visits tiny towns.
Locally:
My friend Chad was interviewed about mopeds on the Chit Chat podcast. It's beer week here, and everybody is doing something with beer, which is fine by me. We went to see the Del McCoury Band which was great because they are pretty incredible, but the bands that opened up for them were total shit.  So shit I don't want to even tell you who they were for fear that you will go and try to listen to them and then you will be mad because you had to listen to shit and you will say "GODDAMMIT WHY DID I LISTEN TO THIS SHIT?!?  OH RIGHT BECAUSE OF THAT LINK IN GEE'S NEWSLETTER.  DAMMIT GEE." We had some awesome fondue.
I made a really great punch and you should all go and try it:
(Serves 6, generously)
2 cups bourbon
1/2 cup amaretto
3/4 cup orange sour mix (see below)
1 bottle champagne, chilled
Stir together bourbon, amaretto, and sour mix in a large pitcher. Add champagne slowly, so it doesn't overflow your pitcher. Stir. Serve over ice.
Orange sour mix:
1.5 tablespoons of orange zest
1/2  cup sugar
1/2 cup water
1.5 cups fresh orange juice (I would have used blood oranges if I could have found the things, instead I used cava cavas).
Blitz the orange zest and sugar together. Heat water, add sugar.  Continue heating water until sugar dissolves. Once dissolved, cool to room temperature and add the juice. Refrigerate leftovers.
I've Been Reading:
MOAR SANDMAN. This week I finished volumes 6 and 7 and started on number 8.  I also realized that the library doesn't have volumes 10 and 11, so I may have to buy those. Eventually I will finish this series and start reading other things.  I'm also re-reading The Devil You Know by Mike Carey, even though I just read it at the end of the year. I'm re-reading it in prep for reading Carey's The Girl With All The GiftsThe Girl With All The Gifts which I got for Christmas.
In the Earhole:
| Artist | Plays |
| --- | --- |
| Dr. Feelgood | 47 |
| The Jam | 28 |
| Action Bronson | 28 |
| Paul Weller | 17 |
| The Kinks | 16 |
| Ghostface Killah | 14 |
| David Bowie | 14 |
| The Stranglers | 13 |
| Ian Dury | 13 |
| Madness | 12 |
| The Specials | 12 |
Eye Pollution:
I watched The Jam: About the Young Idea which was pretty good, and resulted in a lot of The Jam and other new wave/mod stuff showing up in the Top 10 this week. Weller comes across as a bit of a dick, but a hard working dick and committed to his ideals. It's also fun to watch anyone take the piss out of the Sex Pistols. I also watched more Jessica Jones (should really try to finish that soon). There was also some Great British Bake-Off, which if you aren't watching, you should, because it shows you exactly what is wrong with every other cooking competition show out there. Seriously, go watch it right now.  This missive is over and the last section is about Arsenal anyway and most of you don't care about that so just go now and watch it. You will thank me.
Boring, Boring Arsenal:
A frustrating draw with Stoke City sent Arsenal to the top of the league again. Apparently Ozil was left out of the squad due to a minor foot injury, so hopefully he will be back soon. Word is that Alexis should be back shortly as well, and we'll also get to see the new guy Elneny probably in the next match. In related news, there was a great article in Quartz about the EPL and value for money.